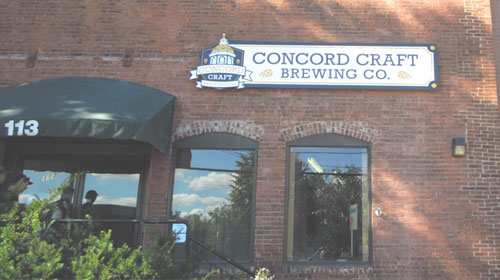 Our Mission
At Concord Craft Brewing Company, it is our mission to hand-craft fresh, flavorful beers locally. We brew our beers in a state-of-the-art facility right in downtown Concord, where you can conveniently walk in and see where it is made and buy it fresh. We believe that once you try our small batch hand-crafted beers, you will be proud to drink your local Concord Craft beer whenever you are in the mood for a beer. While we can brew beers of every imaginable color, taste and consistency, our passion is to craft our beers in small batches so that YOU will enjoy them. We pledge to make the crisp and refreshing beers that will leave you wanting another.
Our History
We at the Concord Craft Brewing Company think that it is a shame when beer enthusiasts drink tasteless mass-marketed beer instead of a fresh, quality locally-made beer that they can know and love. It seems that the New Hampshire lawmakers agree, and in recent years New Hampshire has been lowering the barriers for in-state brewers to make vibrant beers to the diverse tastes of New Hampshire residents. There are now several dozen craft breweries throughout New Hampshire. And, while you can drive around the state to see these breweries, until Concord Craft Brewing Company, no nanobrewery has opened its doors in downtown Concord.

We buy local whenever possible. Some styles we brew require ingredients that are simply not grown in New Hampshire or New England. We share our spent grains with local farmers, so even if you do not drink our beer, you may still be enjoying some of the fruits of our labor through local dairy and produce.


When we opened we used steam power from Concord Steam, one of the nation's last wood fired municipal steam systems. That didn't last long! After Concord Steam ceased operations a few months ago, we have been producing steam on site with a natural gas fired boiler. While it is a little more expensive to brew with steam, but it produces the most efficient and even heating source for brewing, which we think you will taste in the consistency and smoothness of our beer.

We seek to maximize the use of sustainable packaging. We share our spent grains with local farmers, including Bartlett Dairy Farm. We use maximally recyclable packaging and materials, and we welcome you to walk to our downtown brewery and have a recyclable container filled with one of our hand-crafted beers. If you bring one of our glass growlers back to the brewery store, we will refill it and no new packaging is needed! Beer is 95% water, and we benefit from Concord's sustainable water supply. The same cannot be said for beer brewed in other regions where water is scarce.