Dedicated to Creating Great Tasting Beers
With the help of our dedicated brewer team, Concord Craft Brewing Company in Concord, NH produces a variety of beer styles and types. Each member of our crew has impressive brewing experience and a passion for creating tasty beers. Read more about our squad for more information.
Doug is our head brewer. Doug has been brewing commercially for five years. He trained at River City Brewing in Sacramento, CA and American Brewers Guild. He has worked at breweries across the country including New Helvetia and ABinbev (formerly Anheuser-Bush) in California, and Beer Works, Cape Ann Brewing Company, and Cape Cod Beer in New England. A retired Coast Guard Officer and engineer by training, Doug is passionate about producing great tasting quality beer. A tireless spirit who loves the outdoors and tries to swim every day (in the ocean if possible), Doug enjoys spending time with his family, friends, and dog Annie. If you can't find Doug producing New England's best beer in our brewery, you may bump into him anywhere good beer is flowing.
Beth is our co-founder and part-time brewer. Beth has more than 10 years of home brewing experience, is American Brewers Guild Certified, and is also passionate about great tasting beers. While she enjoys most style of beer, she strives to keep all our beers balanced and not overly filling or overpowering. Beth too has had an interesting path to commercial brewing. She is a Board Certified Obstetrician and Gynecologist, whom many in the Concord area may know better as Dr. Mayland. She worked at Concord OBGYN for 10 years before taking time off to raise her family. Beth enjoys playing ice hockey and spending time with her family, and she will be keeping an eye on our yeast propagation and birthing new recipes for tasty beers!
Nate has more than 10 years of home brewing and bartending experience. Nate is an adventurous brewer and has brewed a wide variety of beer styles and types. While refining his brewing craft, Mr. Raimo has spent over a decade in the insurance and investment industry at Lincoln Financial. In addition, he has bartended at various restaurants around the Concord area. Nate is a certified Beer Server/Cicerone, the beer equivalent of Sommelier for Wine. Nate is on the Board of Directors for Concord National Softball along with coaching, officiating, and playing hockey year round. Nate is primarily responsible for Sales and Distribution of our beers.
Dennis, husband of Beth, is our other founder and has over 30 years of home brewing experience. Dennis, who is quick to point out that he has seldom met a beer he didn't like, is running the business operations for the brewery. He spent over 20 years working in the pharmaceutical business, most recently working to bring new antibiotics to combat resistant bacterial infections. Dennis loves to get outdoors with his family and can often be found coaching or playing ice hockey in the Capital City area or across New England, pretty much all year round.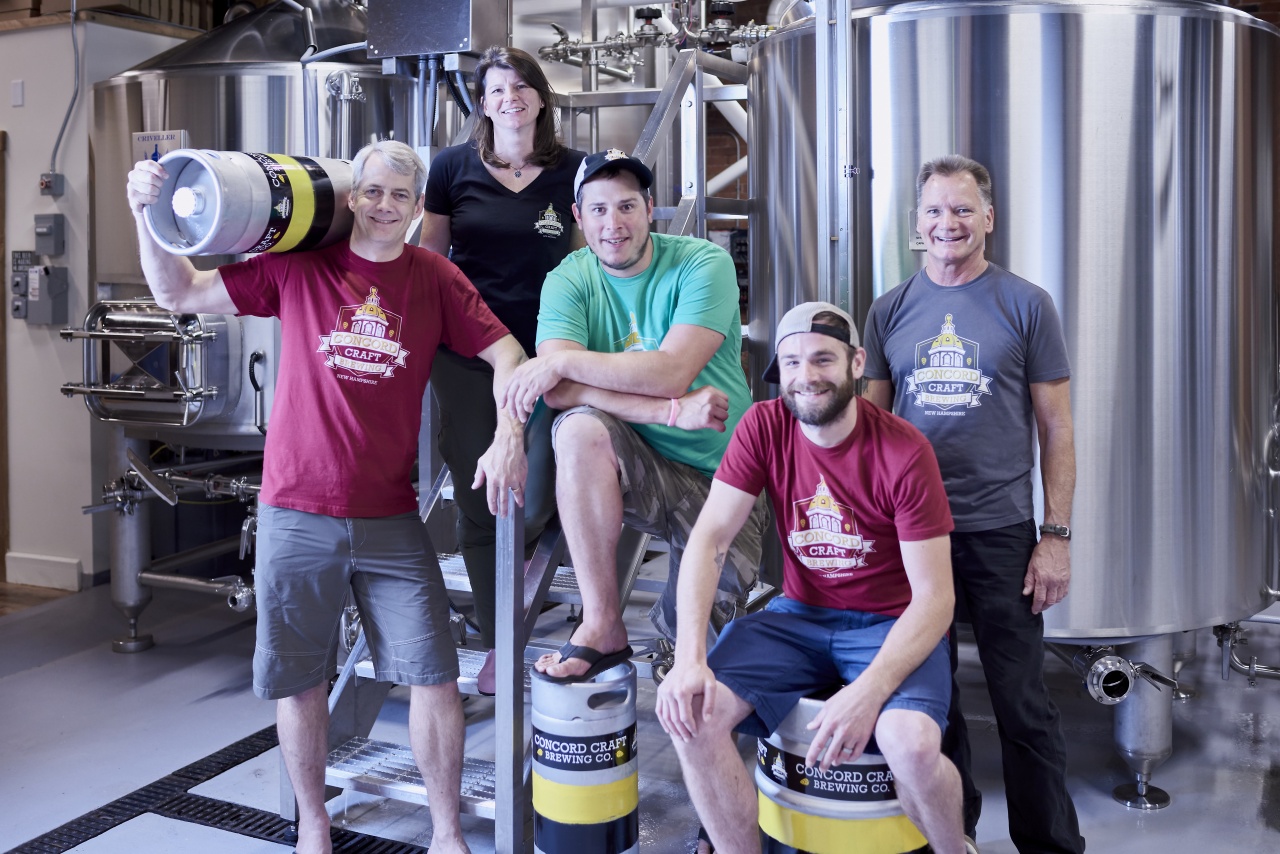 Learn More About Our Beers
Delight your taste buds with the handcrafted beers we offer at Concord Craft Brewing Company. Have some pints of our drink and experience how we raised the bar when it comes to crafting different beer styles. Continue browsing through our site or give us a call should you have questions or concerns.